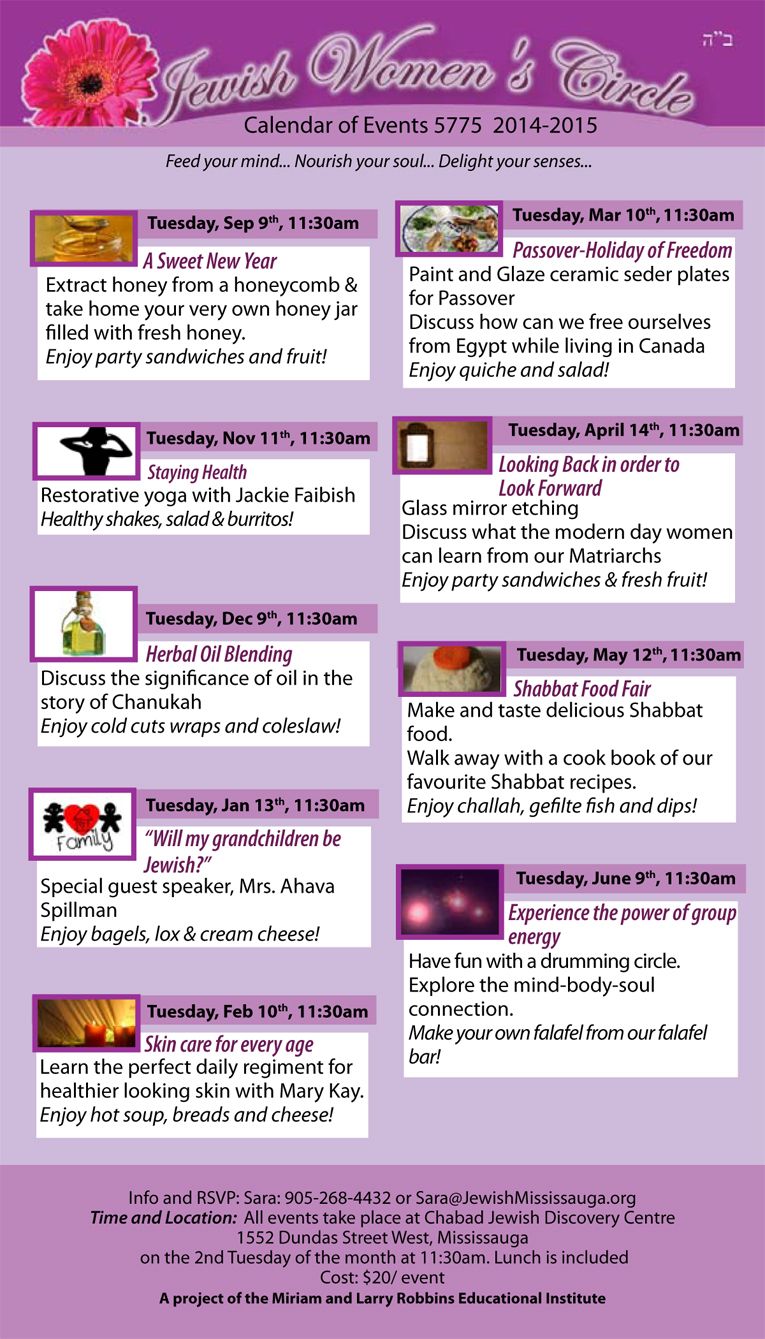 Jewish Women's Circle 2015-16
Wednesday, Sept. 9th 11:30 am A SWEET & FANCY NEW YEAR
Make beautiful accessories to wear for the holidays under the instruction of 
Bonnie Folkard. Take home a hair fastenator and other decorations. 
Into to the High Holidays by Rabbi Slavin. Enjoy wraps, apples with chocolate 
and honey cake.
Wednesday, Oct. 21st 11:30 am MIND AND BODY HEALTH
Learn the philosophy and fundamentals of Tai Chi while sitting or standing with 
Judy Miller. Enjoy delicious soup, salad bar and whole wheat challah!
Wednesday Nov. 11th 11:30 am CHINESE BRUSH PAINTING
Bernadette Oppenheim Duzyk is a famous local artist who will bring out your 
creative juices. Discuss the unique mitzvahs related to women. Enjoy bagels, 
cream cheese and lox. Lots of veggies too.
Wednesday Dec. 9th 11:30 CHANUKAH FUN
Bring in your own Chanukiah (Menorah) and a wrapped gift (under $10.00) Learn 
how to make sufganiyot (Israeli donuts). Get ready to have some fun! Partake of 
a yummy Chanukah lunch of salmon, latkes, salad and donuts.
Wednesday, Jan. 13TH 11:30 am TORAH AND TEA
Experience a real English High Tea in Mississauga. Take home a small bottle of 
jam which you have made. Guest Speaker. Small sandwiches, desserts and of 
course scones with jam and whipped cream!
Wednesday Feb. 10th 11:30 am JEWISH BOOK CLUB AND REVIEW
"As Long As I Live" by Aharon Margalit. Book talk will be led by Moira Black. 
Bring in any Jewish themed books to share or swap. Warm up to chilli con carne 
(meat and vegetarian) and buns
Wednesday, March 9th 11:30 am THE JEWISH KITCHEN IS THE HEART OF 
THE JEWISH HOME
Bring in your favourite Jewish recipe. We will put them on file cards and put them 
into a photo booklet for you to take home. Make hamentachen for Purim. Enjoy our falafel bar and hamentachen for dessert.
Wednesday, April 13th 11:30 am PASSOVER-HOLIDAY OF FREEDOM
Bring in your own memories of Pesach from your childhood to share. Let's discuss The Four Questions and any Pesach questions you may have. Do you have a 
pillow to lean on? Make and decorate your own pillow. Enjoy Passover foods: 
gefilte fish, matzah ball soup and salad.
Wed. May 11th 11:30 am SPRING HAS SPRUNG
Bring in your garden gloves and learn how to plant your own herb container garden. Enjoy pasta with pesto or marinara sauce.
Wed. June 8th 11:30 am END OF THE YEAR KUMZITZ
End off the year with a kumzitz. Enjoy guitar player and singer Ariella Goldberg as we share inspiration and sing along. Barbecue Lunch