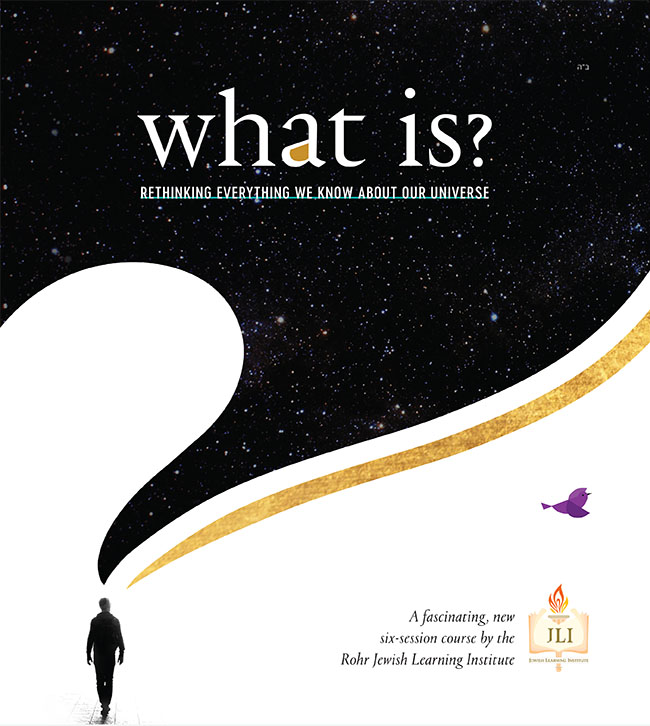 that you were able to rethink everything you knew about the universe, the laws of nature, your own consciousness, and the very idea of existence and reality. Imagine the new insights you will gain, the fresh perspective with which you will embark on the journey of life each morning.
What is? does exactly that. Drawing on the wisdom of Chassidic teaching, the most basic building blocks of existence are reexamined from the bottom up, revolutionizing our understanding of life, reality, and our place in the world.

6 Sundays
10:45a.m.-12:15p.m.
Beginning April 22 (No class on April 29 and May 20)
$79 CAD
For scholarships please contact Rabbi Slavin: 905-268-4432.
 

Chabad Jewish Discovery Centre
1552 Dundas Street West
Mississauga, ONT L5C 1E4 

Office: 905-268-4432
Email: [email protected]
A project of the Miriam and Larry Robbins Educational Institute. This course is dedicated in honour of the 10th Yahrtzeit anniversary of Miriam Robbins z"l.

 

Everything that we experience, we experience inside our heads, leading to the intriguing question: Maybe there is no existence outside of our minds? But perhaps a more fundamental question would be: What practical difference does it make if the world is real or not?
Is time the engine that drives the whole of existence, or is it just a product of our subjective experience? If the future is impenetrable, the past irretrievable, and the present moment too fleeting to meaningfully inhabit, what part of our lives can we call our own?
Why do bad things happen to good people? The question has been asked—and answered—for thousands of years. But even if we understood the purpose of evil, would this make it more palatable and acceptable? Would it aid us in our efforts to defeat evil?
What are we talking about when we talk about G‑d? Is "G‑d" just a word we use when we can't explain something? If G‑d cannot be explained or described, does this not render the concept of "belief in G‑d" completely meaningless?
All injustice and strife, and even personal unhappiness, can be traced to selfishness. Yet self-esteem is essential for a healthy psyche and a productive life. To navigate this paradox, we first need to unravel the mystery of self-awareness: Where does our sense of self come from?
If G‑d already knows what we will do tomorrow, is our "free choice" nothing more than an illusion? And with so many powerful influences outside of our control—or even our awareness—influencing our choices, how "free" could they possibly be?